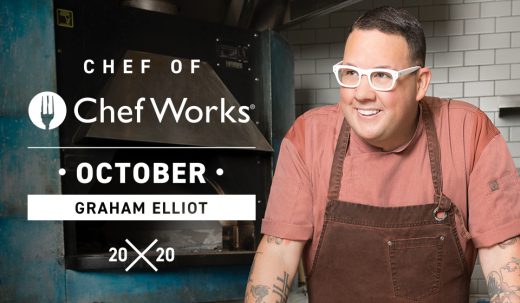 ---
Each month we feature a Chef of Chef Works®. If you're a fan of Chef Works gear and are interested in being featured, email kgemmell@chefworks.com. Pictured above is our October Chef of Chef Works®, Graham Elliot, photographed by Chef Works in his Springfield Chef Coat and Dorset Chef's Bib Apron. 
---
It's a different world out there – and Chef Graham Elliot knows it. Change is happening and there's no more business as usual.
Not only does he want to be part of that change, he wants to lead it. For this month's Chef of Chef Works feature, Chef Elliot chatted candidly with the Chef Works blog about a potential run at politics, the state of culinary and why Luke Skywalker has daddy issues.
Chef Works: First off, we understand Sept. 19 was "Graham Elliot Day" in Chicago. How does one go about celebrating that?
Graham Elliot: The streets are all cleared and there are parades and marches. Statues are erected (pauses for sarcastic laughter). But in all seriousness, it was really neat that the mayor did that and I'm very humbled and very honored.
Chef Works: Did you ever imagine this is what being a chef would be when you got into the business?
GE: Absolutely not. It's insane. My dad was in the Navy so I've been to all 50 states and traveled all across the world. He started as enlisted, then became and officer and retired as a captain. He had this incredible work ethic. Whatever I did, I knew I was going to be goal-oriented because I learned that from him.
At 17 I started as a busser and a dishwasher. Then I went to culinary school and had a degree by the time I was 20. Being in a kitchen was like a pirate ship. There were no rules. There were very few 'celebrity' chefs. Each city had their own, but nothing like what we have today. Back then the hope was to start as a commis and then one day be a sous chef and maybe the dream of executive chef and running a restaurant.
Chef Works: Has that changed what it means to be a chef?
GE: Yes, I think the word 'chef' itself has changed. Now it can be a mom with a successful blog or a 12-year-old on a television show. It no longer means owning and running a restaurant. There's a 'hipster-ization' of food where someone would go to a restaurant once just to take a picture and put it on Instagram.
And now with COVID, the idea of raising $2 million to build a brick-and-mortar restaurant that might stay open for six months where you pray to break even doesn't make any sense.
---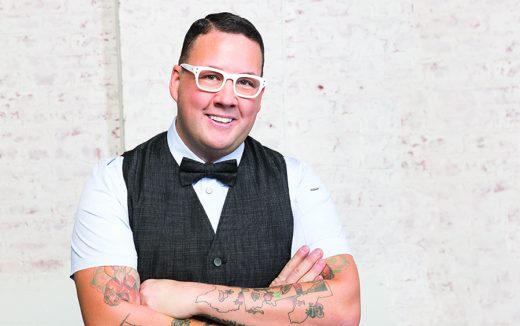 ---
Chef Works: With that in mind, what can we expect from you in the next year or so?
GE: The first half of my life has been about taking and I want the second half to be about giving back.
I've been entertaining the idea of running for office. I love politics. I love strategy. I love people and sharing and being able to connect with people. I love inspiring and helping to build a consensus.
Chef Works: Not to put the cart before the horse, but did the Chef Works blog just break your candidacy for 2024?
GE: (Laughing) Not exactly. I talk to a lot of my friends and they think it's a good idea. I think as a country we have a lot of things worth working for.
Even in the chef world, you're seeing more 'chef-tavists' [chef activists]. Food is fun. Cooking is cool. But I think we're asking more important questions. How do we change minimum wage and divide up tips? How do we make sure women and people of color are coming into leadership positions? These are questions that should have been addressed years ago and hopefully we're going to see some progress.
Chef Works: You mentioned you've been to all 50 states. Does that mean people come to you to settle culinary debates? North Carolina vs. South Carolina barbecue? New York pizza vs. Chicago pizza?
GE: I actually get asked all of the weird and random questions. No one ever asks me about the origins of curry. They want to know if pineapple is acceptable on a pizza or if a hot dog is a sandwich.
Chef Works: Fair enough. Is cereal a soup?
GE: (Laughing) It is not. It's a dry grain that shows up in a bowl with milk. There is no technique or other ingredients.
Chef Works: We know you're big into pop culture. Star Wars or Star Trek?
GE: It's funny you bring that up because my brothers and I have been having this argument for the last three months. I'm the biggest Star Wars nerd in the world. There are some things that are silly, but I love the story arch. Anyone who has ever been driven to work really hard has daddy issues. Then Luke says at the end 'I know there is still good in you father' and there's redemption. It's all incredible.
That said, I did go back and watch the newest Star Trek movies and they are really well done. Now I have to go back and watch the classics with [William] Shatner and [Leonard] Nimoy. I used to be like 99 percent Star Wars and one percent Star Trek. Now I think it's like closer to 60/40.
---
Meet the 2020 Chefs of Chef Works®: 
Meet the 2019 Chefs of Chef Works®: