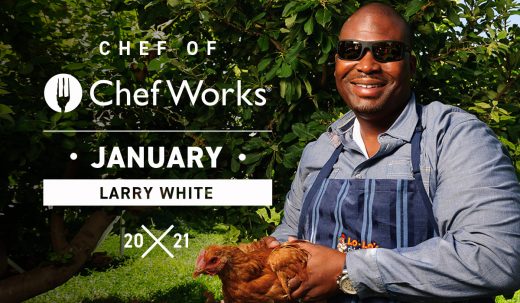 ---
Each month we feature a Chef of Chef Works®. If you're a fan of Chef Works gear and are interested in being featured, email kgemmell@chefworks.com. Pictured above is our January 2021 Chef of Chef Works®, Larry White, in his Presidio Bib Apron. (Chicken's name unknown)
---
This is a first for the Chef Works blog. Our Chef of Chef Works – Larry White – wants to make something perfectly clear: He's not a chef.
Said White: "I'm a cook. I never went to culinary arts school. I never had serious training. I never went to college. People who have had training, they deserve that title. I love what I do and I respect that title too much. People who can make anything, they are chefs. But I do make the best damn chicken and waffles you've ever had."
Fair enough. So for this month's che … er … Cook of Chef Works, White chats with us about how Lo-Lo's Chicken & Waffles started, the mistakes he made (and learned from) along the way and how he grew his brand into a multi-state, multi-restaurant concept. There's also a cool Shaquille O'Neal story.
Chef Works: So you're not a chef, but a cook. How'd that start?
Larry White: My grandmother started Mrs. White's Golden Rule Café in downtown Phoenix in 1964. I grew up in her kitchen. It's still thriving. I took her recipe for fried chicken and started experimenting with my own spices. I brought in a couple of waffle irons and started playing with recipes.
At that time, me and some friends were trying to get an independent record label going and we'd have late-night sessions and I'd cook for my friends. Two friends turned into four, then into eight and then into 16.
She let me start cooking out of her restaurant with one rule: Only family is allowed in her kitchen.
CW: So how did Lo-Lo's move out of your grandmother's restaurant and into its own location?
LW: Until that point, I had actually run from cooking all of my life. But like I said, we were trying to get an independent record label going. And that takes money. And sometimes to get money, you do illegal street stuff. I caught a case in 1997 and was in jail. I said 'Lord, get me out of here and I promise I'll turn my life around.'
From that jail cell, I came up with Lo-Lo's Chicken & Waffles. Lo-Lo was my street name. When you're up to no good, you don't say 'I'm up to no good and my name is Larry White.' You need to have a street name. Five weeks after I got out, I was selling chicken and waffles and I haven't looked back.
CW: How did Lo-Lo's go from one restaurant to two and so on?
LW: My first restaurant was about 800-square feet and could fit about 20 people. We had all-star games and Super Bowls in Phoenix and the lines would be hours long. Snoop Dog, Ice Cube, Shaquille O'Neal and Charles Barkley were all regulars.
It was Shaq who told me I needed a bigger location because he kept hitting his head. It took a while, but I finally opened up a second location. Then he got traded to Boston. But it still worked out. As the brand grew, I made some mistakes. But I learned a lot.
CW: What do you think you learned most during that process?
LW: Simplicity. I got away from what made us great. With Lo-Lo's the menu got to be overwhelming. We had steak and eggs and burgers and barbecue and chili. We had bacon and sausage and ham and pancakes and French toast. But we got away from what made us famous. People would come in and 90 percent wanted chicken and waffles. I'd tell them to try the rotisserie chicken. They'd love it, but then they'd come back the next day and want chicken and waffles.
So we re-worked our menus and put some of those other items into our other concepts. We have Monroe's Hot Chicken and Brunch & Sip. We put our spicy chicken sandwiches and other chicken dishes into Monroe's and all of the breakfast items into Brunch & Sip. We'll be opening new locations of each this year. I'm also seriously considering a barbecue concept.
CW: Speaking of this year, what are your hopes for 2021?
LW: I am most hopeful that we can return to a sense of normalcy. We want to get this vaccine out. We want it to be 100 percent safe. And we want people to start living their lives – traveling, dining out, not being afraid to be outside — the way they used to.
I try to be a role model for others. Anyone who has a platform has a responsibility to lead and to use it. We donate all of our left-over food to homeless shelters. But more than giving, we try to empower people and give them opportunities and second chances that they wouldn't get anywhere else.
I'm hopeful we can stop the division and stop the bickering as a country. America is going to bounce back strong in 2021. I truly believe that.
---
Meet the 2020 Chefs of Chef Works®: 
Meet the 2019 Chefs of Chef Works®: