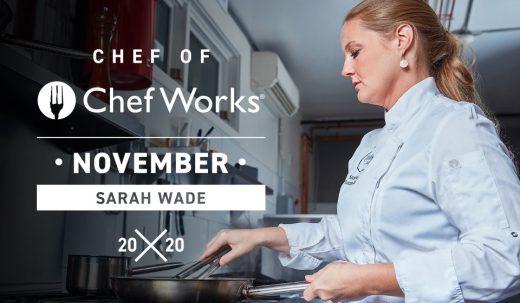 ---
Each month we feature a Chef of Chef Works®. If you're a fan of Chef Works gear and are interested in being featured, email kgemmell@chefworks.com. Pictured above is our November 2020 Chef of Chef Works®, Sarah Wade, in her Women's Hartford Chef Coat. (Photo credits/Mark Mendoza)
---
Chef Sarah Wade made the declaration that after winning the "Chopped" Gold Medal Games – besting 16 opponents in a winner-take-all competition — that she'd use her victory money to open her own restaurant.
True to her word, the Oklahoma native opened Stillwater, bringing midwestern comfort food to Boston – a town more known for its chowder than Frito Pies.
Six months after opening Stillwater, the pandemic hit and Wade was forced to make some tough decisions. She talks with the Chef Works blog about winning Chopped, the camaraderie that exists among chefs and what it meant for her community to stay open.
Chef Works: Let's open with "Chopped." Did you ever imagine yourself being a competitive chef on TV?
Sarah Wade: I always said if I was ever going to be on a cooking show, it was going to be a serious one – not one where they replace your knives with plastic knives and make you do all sorts of weird things. So when "Chopped" called, I was excited. I had no idea how I stacked up against other chefs. I'd been buried in the hotel world for 100 years. People seemed to like my cooking. They called, so why not?
It was the craziest, most stressful, most awesome experience. But I think what I enjoyed the most was the camaraderie. That's the thing about chefs. Even when we're competing against each other, we can still walk out at any minute, go around the corner and drink whiskey for the rest of the night.
Chef Works: So you open Stillwater, and then six months later COVID hits. Talk us through your mindset.
SW: COVID sucks. I think we can all agree on that. When we went into quarantine, we made the decision to stay and grind it out. We had literally been open six months before they cut us off at the knees.  Not just us, but everybody. We stayed. I cooked, washed dishes and took orders. It was the core management team and that was it. Since then, we've been able to bring some staff back.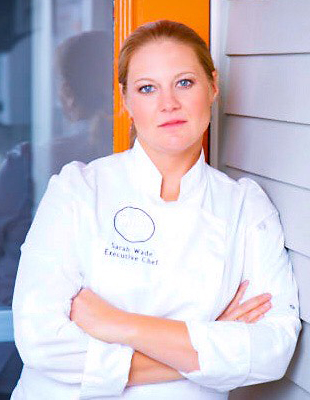 Chef Works: What was the neighborhood response when you decided to stay open?
SW: I think we gained a lot of respect. We're in a residential building, so there are condos on top. We actually made more regulars during quarantine because we had the opportunity to meet our neighbors.
We were all starved for human interaction. It's still hospitality, but it feels more personal now. It's still a grind. We mask up, glove up and get to work. But we're very appreciative of how the neighborhood tried to help take care of us.
Chef Works: Stillwater is obviously a tip of the cap to your alma mater, Oklahoma State. How does the Midwest comfort food play in Boston?
SW: While I was working at another restaurant, we had a "taste of" and so I decided to do Frito Pie. You go to any football game in Oklahoma and you get a Frito Pie. You open a small bag of Fritos and fill it with chili and onions. People were like 'You're so creative. This is the most amazing thing I've ever seen.'
After that, I knew I'd be fine. I've got plenty of Midwest tricks up my sleeve.
Chef Works: So if you had to choose: An Oklahoma State football game? Or a game at Fenway?
SW: Aw man, that's just cruel. I would have to say college football. I have to support my Cowboys.
Chef Works: If 2020 was a food, what would it be and why?
SW: If 2020 were a food it would be haggis. Stinky, confined in a bloated belly waiting to be popped like a pimple. But once you pop it, some of the stuff on the inside is good. Not everything is terrible.
Chef Works: If you could cook for one person, who would it be and why?
SW:  I would cook for [New England Patriots Head Coach] Bill Belichick.  I want to pick his brain on leadership and running a team. On tough days, I sometimes ask myself 'What would Bill do?'
---
What food do you think 2020 should be? Leave your answers in the comments below!
---
Meet the 2020 Chefs of Chef Works®: 
Meet the 2019 Chefs of Chef Works®: