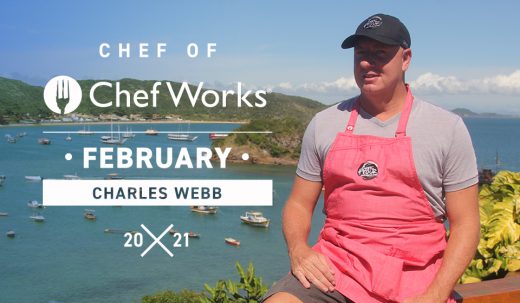 Each month we feature a Chef of Chef Works®. If you're a fan of Chef Works gear and are interested in being featured, email kgemmell@chefworks.com. Pictured above is our February 2021 Chef of Chef Works®, Charles Webb, in his Medford Bib Apron.
---
Charles Webb carries many titles. For starters, he's the Chef of CW Gourmet Catering. But these days, being a chef means a lot more than just cooking and plating. Chef Webb is also a digital content creator, travel enthusiast and philanthropist.
Narrowing down what country he's in, on any particular week, can be tough. But the Chef Works blog was fortunate enough to catch up with this "man-about-world" to chat about the future of culinary, how he's seen food impact different cultures and why he wants people to have a "spiritual enlightenment" when they eat his food.
Chef Works: Give us a quick overview of how you started cooking.
Charles Webb: I actually started cooking when I was 8 out of survival. My parents divorced and I had no brothers or sisters to help watch me — let alone money for a babysitter.
My influences are global. I am from Chicago and grew up in San Antonio, but I consider myself a citizen of the world. I've had dozens of jobs around the globe and all of them have shaped my identity, who I am and what I'm about. I've called nine different countries home, from Brazil and Italy to Monaco and Denmark — plus others in between. There's never a dull moment in my life.
Chef Works: What have you learned in all of your travels about food that is unifying across all continents?
CW: That the idea of 'breaking bread' is essential in the development of relationships — no matter where in the world you are. Food is the cultural driver that submerges you into that society and that culture. Food is what unites us and brings us together. And as [entrepreneur and philanthropist] David Hertz says, 'food is a tool for social change.'
---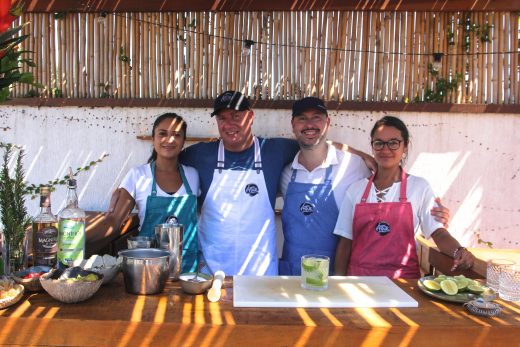 ---
Chef Works: If you could go back one year from today and give yourself a single piece of advice, what would it be?
CW: I am an out-of-the-box thinker for sure and I try to be very multi-dimensional in my life. What has happened in the last 365 days has challenged the best of us in many ways. I think it might be better to put it this way: We live in a world where just cooking or running a kitchen is simply not enough. We must learn to create new skills and leverage those skills.
We can learn from the last year and put ourselves in a better position to face some of the challenges we have met. I'm confident that my 'pivots' into the digital world have opened up a number of opportunities for me as the world changes.
As much as I'd love to be 'all-in' on cooking, there is so much more to learn about the mind, our energy, positive thinking, entrepreneurship and philanthropy.
Chef Works: In your opinion, what do culinary and hospitality look like five years from now?
There will always be a demand for culinary and people are going to consume. That's a given, but that's simply not enough. Modes of transportation will change. The number of employees needed to staff a restaurant or facility will be smaller. We might see people gravitate away from larger cities. Consumer behavior is going to change and it's possible that some people will live more like 'digital nomads.'
The industry – the world, really – is in a major transition and the way that we consume is also changing. Innovation and technology are going to drive the bus.
Chef Works: Finish this sentence: When people are done with one of my meals, I want them to … 
CW: Have spiritual enlightenment? A visceral wave of emotions? I think that it is important to understand that food should touch all of the senses. That comes from the energy that we have and the products we use. This is true for fast food, comfort food, fine dining and everything in between. If we can all put our heart and soul into it, people are going to 'feel' what we make them.
Chef Works: Can you give us a preview of what 2021 has in store for you?
CW: I live by the philosophy to never be defined exclusively by the past or the present, but rather what sort of impact you can have on the future. We have to become bigger leaders in our communities and industry. How can we mentor and learn from others?
I am deeply passionate about travel and food, so I find ways to incorporate that in my life through my digital series #chefontour with Charles Webb. It's about culture, community, food and art all wrapped up into travel. We are projected to be in 16 cities this year across multiple countries filming and creating some amazing memories and meaningful digital content.
I'd love for you to follow along on Instagram @chefcharleswebb
---
Want to be featured? Email kgemmell@chefworks.com
Meet the 2021 Chefs of Chef Works®: 
Meet the 2020 Chefs of Chef Works®: 
Meet the 2019 Chefs of Chef Works®: