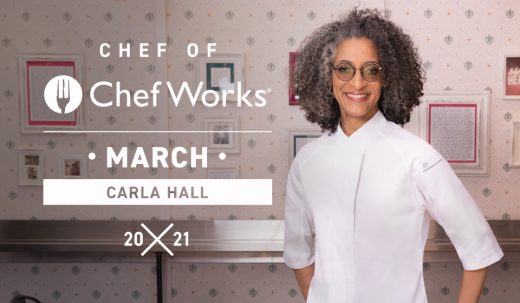 Each month we feature a Chef of Chef Works®. If you're a fan of Chef Works gear and are interested in being featured, email marketing@chefworks.com. Pictured above is our March 2021 Chef of Chef Works®, Carla Hall, photographed by Chef Works in her Women's Executive Verona Chef Coat. 
---
We've had many Chefs of Chef Works talk about the evolution of their careers and how they rose to their positions. But not many can match Chef Carla Hall – a CPA turned European runway model turned celebrity chef and author.
From "Top Chef" to "The Chew" (among many others), Hall has been a culinary television icon for more than a decade. For International Women's Day, she chats with the Chef Works blog about female energy, her pride in being called a "female chef" and how one meal can send you on a roller coaster of emotions.
Chef Works: 2018 and 2019 were so important for women in culinary. But have some of those discussions faded into the background because of COVID? How do we bring those topics back to the forefront?
Carla Hall: When you talk about the culinary community, you are talking about a group of people who are passionate about caring for others — a group of people who by their very career choice excel at resilience. Because the industry has lost so many people, it's a time for empathy and understanding. But I also think that this is a time for renewal. The food industry has no shortage of excellent leaders who believe in and actively work to enact social change. The eventual return to a more social world is a real opportunity for us to continue to drive those changes.
Fighting for civil rights, equity and the challenges of racism did not stop because of COVID, even if at times it faded from the headlines. Once COVID struck, we were dealing with a work environment decimated by a pandemic on top of the racial injustices of George Floyd's death, and then the growing realization that COVID was hitting black and brown communities at the highest and deadliest rates. Within the confluence of those two things, it starts to feel like you are in a trauma-feedback loop. There is a point where you are not able to make permanent change because you are simply in survival mode.
So as we start to think about a 'return to normal' we should consider the question: Why heal one scab only to tear another open that needs to re-heal? If you're going to heal, heal everything. Rebuild from the ground up and really start addressing all of the issues that hold us back from greatness. Diverse teams are stronger teams. Fair and equitable workplaces drive employee enthusiasm and spark the most successful businesses. As we recover from months of being in survival mode, we have a chance to come back and change the structure and be thoughtful and purposeful about who we want to be.
Chef Works: Who were some of your icons coming into the industry?
CH: I was coming up in the D.C. area and looking at Anne Cashion, Ris LaCoste and all of these women who were hanging out with the 'big guys.' I remember thinking these women were in the men's club. When I look back on it, I wasn't even deep in the industry yet, but what does that say that they were hanging in there? Unfortunately, they were called 'one of the guys.'
That said, I felt like their food was always uniquely feminine and nurturing.
---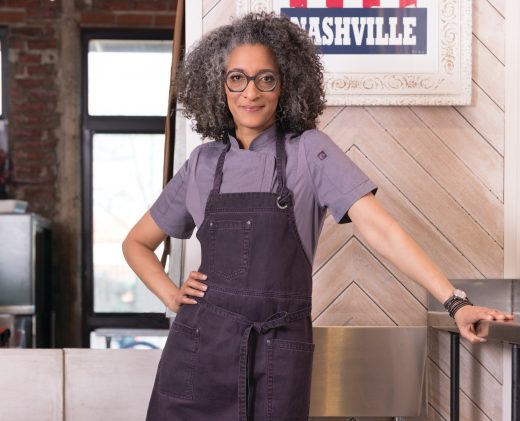 ---
Chef Works: Do you see a difference in the way women and men prepare food?
CH: The one thing I always say, when I look at male and female chefs, it's not just their sex. It's their male and female energy. There are some men with female energy and some women with male energy. I think female energy is that nurturing energy that says 'Come on board, I want to hug you with my food.' I don't mean effeminate. One of those guys who I think has that female, nurturing energy in his food is Michael Symon. When you eat his food, it feels like that man loves his mamma. His food hugs you.
Then you have male energy, which I think feels more egoic, like I'm trying to show you what I can do on a plate. That's OK, but for me, I don't remember that food. It can be a beautiful plate of food, but it doesn't always feed my soul.
Chef Works: What are your hopes for women in the industry in the next few years?
CH: The same way I love being black, I love being a woman. I love that female energy that exudes from me. I'm not trying to be anything but that. I don't have to be a man. I don't need to have that male energy. I'm going to hug you. I'm going to be unapologetically goofy.
What does that mean to be a female chef? Where is that power? I've said this to myself and some of my friends for a long time, 'Reclaim the kitchen.' You think about some of the male chefs who were inspired by someone, a lot of times it's a mother or a woman.
Chef Works: Some chefs don't care for the term "female chef," and yet you embrace it. Why is that?
CH: I think there is power in being called a female chef. I think there is power in the way I look at food through that lens. I am never going to be a strong as a man. And I think there are some strengths that men have. But I would like to lean into the strengths that women have.
Chef Works: Changing topics, what's your favorite movie where the chef is a lead?
CH: "Babette's Feast." I love that movie because here is this woman who is an amazing chef and after the war, she finds herself as a lowly cook for this family.  But then Babette wins the lottery and puts all of the money into this one amazing meal, and that's when the family realizes who had been cooking for them all along. Nobody knew her gifts. She's like 'I've been right here under your nose. Bam, I'm a female chef.' I just love it. It's an underdog story. It's a story of someone who doesn't have to be showy to know who they are. But when the time comes, they know what their gifts are and they reveal them to you. (Editor's note, it's got a 97% on Rotten Tomatoes).
Chef Works: What's your favorite culinary memory?
CW: One time I was having a meatloaf Rueben at this restaurant in New York. When I have something that's really good, it brings back all of these memories. We were all going to share our food. But then I took a bite. I started laughing and was like 'Y'all, I'm not sharing this.' Then I started crying because it reminded me of my mother's meatloaf. I love a Rueben, I love meatloaf. It was the perfect mashup of two of my favorite things.
---
Chef Carla Hall's food is available at goldbelly. You can find her cookbooks, recipes and social media links on her website.
---
Want to be featured? Email marketing@chefworks.com
Meet the 2021 Chefs of Chef Works®: 
Meet the 2020 Chefs of Chef Works®: 
Meet the 2019 Chefs of Chef Works®:
---
Portions of this interview have been edited, with the consent of the subject, for length and clarity. The views and opinions expressed by the subject do not necessarily reflect those of Chef Works, Inc.